On this 70th anniversary of the closing of the Rohwer Japanese American Relocation Camp in Desha County, Arkansas, the UALR Center for Arkansas History and Culture has launched Rohwer Restored, a virtual exhibit that documents a project to stabilize and restore the memorial cemetery located at the former internment site.
Opened in September 1942, Rohwer Relocation Center spanned 400 acres and housed 8,475 individuals at its peak. Today, the cemetery is the last physical remnant of not one but tw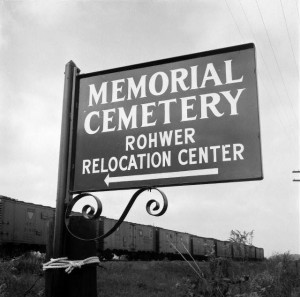 o World War II camps located in Arkansas. The area contains historic and modern monuments, as well as 24 concrete headstones marking the final resting place of Japanese Americans unconstitutionally incarcerated as threats to national security during World War II.
Prior to the beginning of this project, the cemetery was in dangerously poor condition due to deterioration caused by weathering, neglect, and vandalism. The National Park Service had identified the Rohwer cemetery as an endangered resource. The cemetery had several preservation needs: Historic monuments, markers, and headstones were structurally unstable and covered in biological growths that significantly altered their appearance; engravings were unreadable; and vandalism had taken its toll on the site.
The conservation project has developed in phases. Phase I included the restoration of two of the most iconic monuments at the cemetery, the Monument to the Rohwer Dead and the Monument to the 100th Battalion. Phase II continues the stabilization and restoration of the World War II-era section of the Rohwer cemetery with a focus on cleaning, repairing, and resetting the concrete headstones and flower holders; restoring drainage patterns and channels; and replacing missing concrete pathways. All work at the cemetery is in compliance with the Secretary of the Interior's Standards for the Treatment of Historic Properties.
With the completion of phase II, the original appearance of the cemetery has been recreated. The cemetery is a rare resource associated with the history of Japanese American confinement in the United States during World War II. The goal of this project is to ensure that this important piece of the nation's historic fabric is preserved for future generations of Americans.
The project team includes the University of Arkansas at Little Rock, WER Architects/Planners, and Kinco Constructors.
Rohwer Restored was made possible by a grant from the U.S. Department of the Interior, National Park Service, for the preservation and interpretation of U.S. confinement sites where Japanese Americans were detained during World War II.